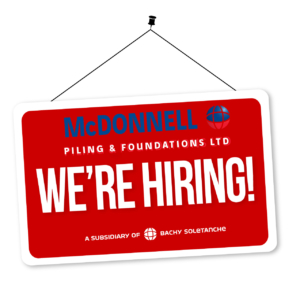 Vacancy: Senior Estimator
Reports to: Managing Director
Main Purpose of Job:

To cover all aspects of work-winning activities, including pile design, estimating, and tendering for CFA, mini-piling and ground anchor works. The role covers all aspects of business development, by leading and coordinating all aspects of selected tender(s), ensuring high quality, competitive proposals are delivered to the customer in a manner consistent with the business strategy and procedures.

Key Tasks: Not limited to

Review tender documents and submission requirements, ensuring we evaluate all relevant information in the bid process.

Liaison with the design, and other departments, to ensure that innovative, and most appropriate, solutions are produced.  Ensuring that all identified risks are mitigated.
Liaison with Business Unit Manager, and the construction teams, to ensure correct resources, productions etc are employed to deliver the projects.
Preparations of cost plans, risk assessments, and risk mitigations, in line with McDonnell Piling procedures.
Preparation and submission of pricing documents and tender proposal in line with our client's requirements.

Provide effective, and considerate, communications with our clients throughout, and post, the bid process.  Willingness to attend meetings, and a professional image is essential.
Ensuring that project operations, and the commercial team, have an effective handover on secured projects.
Compliance with business strategy and procedures, and a relentless focus on safety.

Knowledge and Experience Required:

Experience and good technical/engineering knowledge of ground engineering processes.

Experience in the preparation and delivery of tender proposals.
Knowledge of the Irish piling and geotechnical market.
Good communication, a team player, and is comfortable with the pressures of working to time deadlines.
Computer literate with all the major Microsoft office programmes.  Preferably Degree qualified

Physical Working Environment:

Flexible work arrangements are available with a combination of office-based work (Cork office) and working from home.
The role does involve travel to visit clients and sites as required.